Kayak trolley.
The "Inuk kayak trolley" is a very robust yet compact expedition kayak trolley. The simple design has been developed and perfected over many years. All marine grade stainless steel construction with plastic wheels / pneumatic tyres. This is probably the last trolley you will ever need to buy as it wont break or wear out !

Very simple to collapse down into small easily packed units, will stow through most kayak hatches. The frame components are all held together with bungee cord so no parts can get lost.

Can easily be attached to a large range of canoe / kayak shapes and is strong enough to cope with a fully laden expedition kayak. The wide wheels cope well with sand, rocks and rough ground, the pneumatic tyres give a degree of cushioning.

The trolley can be ordered with a choice of wheels,

Standard: 260mm dia. 50mm wide with pneumatic tyres.

Small: 220mm dia. 50mm wide with pneumatic tyres.

Solid: 260mm dia. 50mm wide with solid rubber tyres. (these add 1kg to total weight of trolley)

Price: £199.00 plus postage.

Contact: Rob Feloy. 07967 024676.

[Best_Wordpress_Gallery id="5″ gal_title="Trolley"]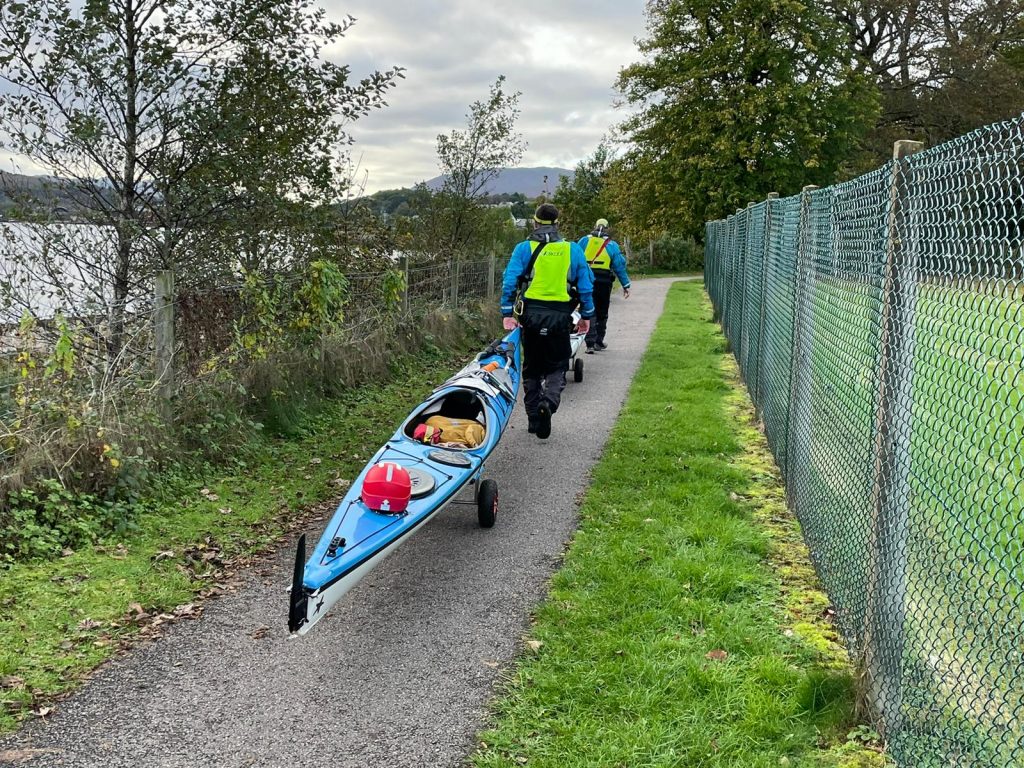 Trolleys on portage in Scotland
Choice of 3 types of wheels.
Solid rubber. (top)
Standard pneumatic. (mid) (This is the wheel I would recommend.)
Small pneumatic. (bottom)